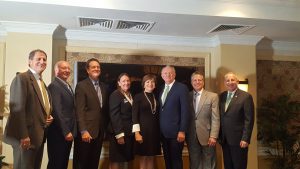 Riverwalk Fort Lauderdale is pleased to announce that the Eighteenth Annual Riverwalk Fort Lauderdale Tribute will be honoring Mike Jackson for his many contributions to the growth and development of the City of Fort Lauderdale and the Riverwalk District.
This distinctive event will take place on Thursday, March 8, 2018, from 5:00 PM to 8:00 PM at the Riverside Hotel. Exquisite food, sensational spirits, and festive entertainment will delight approximately 350 of Fort Lauderdale's elite.
Mike Jackson is the Chairman, CEO and President of AutoNation, America's largest automotive retailer. Based in Fort Lauderdale, it serves as one of the City's largest employers and helps drive the local economy. As a Fort Lauderdale resident and a man who came from humble beginnings, Mr. Jackson makes sure to give back to the community. His leadership in the transformation of the Museum of Art, Huizenga Plaza, and continued support of the IMAX theatre and the Broward Center for Performing Arts, are just some of the many ways in which Mr. Jackson gives back to the growing Riverwalk District and Fort Lauderdale.