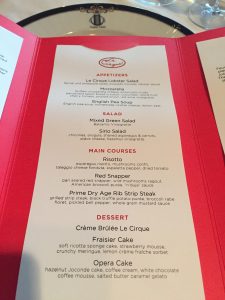 Host Jessica Koussevitzky was at The Tower Club Ft. Lauderdale as they hosted Le Cirque Traveling Pop-Up Dinner benefiting St. Jude Children's Research Hospital®
The Tower Club Ft. Lauderdale transformed into a legendary Le Cirque Restaurant experience.
Tower Club Ft. Lauderdale, a member of the ClubCorp family, teamedup with legendary Manhattan restaurant Le Cirque for one night only to create "An Evening with Le Cirque" benefiting St. Jude Children's Research Hospital. The pop-up dinner event was open to the public and is just one of 10 taking place at private clubs around the nation. Le Cirque is ranked among the best restaurants in the world and a favorite gathering place of celebrities, political figures, and high society for more than 40 years.
Attendees had the opportunity to meet Le Cirque's new chef, Massimo Bebber, dine and visit with members of the Maccioni family, which opened the original Le Cirque in New York and now operates 25 restaurants throughout the world, and enjoyed Le Cirque's authentic and timeless French cuisine plus experienced the iconic wines of Feudi del Pisciotto Italian Fashion Designers Collection by Domini Castellare de Castellina.
To further enhance the Le Cirque experience, design elements featured Le Cirque's iconic table top, logoed menus and even the Le Cirque sugar sachets. As part of the club's transformation, photos of Le Cirque's founder, Siro Maccioni and his sons Marco and Mauro, with celebrities were enlarged and displayed throughout the dining room's main entrance.
For more information and other events coming to the Tower Club please go to http://www.clubcorp.com/Clubs/Tower-Club-Ft-Lauderdale/