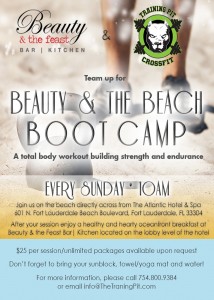 Seriously a beach workout followed by brunch? Sign me up! That's exactly what Beauty and the Beach Boot camp is, a new combined exercise and dining program. It's a collaboration of The Training Pit Crossfit and Beauty & The Feast | Bar Kitchen, a restaurant in the Atlantic Hotel & Spa in Fort Lauderdale.
Every Sunday, Crossfit instructors from The Training Pit hold a class, for a fee of $25, on the beach across from the hotel. During the class, participants engage in a combination of strength training and cardiovascular exercises.
Afterward, they enjoy brunch together at Beauty & The Feast.
WHERE: BEAUTY & THE FEAST BAR|KITCHEN
The Atlantic Hotel & Spa
601 North Fort Lauderdale Beach Boulevard
Fort Lauderdale, FL
954-567-8020
DETAILS: Attendees of the Boot Camp should bring a towel/yoga mat, water, and sunblock. To participate, the cost is $25.00 per session and boot camp packages are available upon request. For more information, please call 754.800.9384 or email info@TheTrainingPit.com