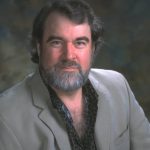 WLRN's "South Florida Arts Beat" Host Ed Bell to be Honored
at 17th Annual Cuisine for Art Fundraiser on Thursday, May 29
​Hollywood, Fla. – The Art and Culture Center of Hollywood's 17th Annual Cuisine for Art fundraiser on Thursday, May 29 features elected government officials and community leaders serving as celebrity waiters for an exciting and entertaining evening.
​The evening begins at 6 p.m. with a cocktail reception, in which wine, vodka, and beer are served while ticket buyers bid on fabulous silent auction items such as incredible vacation packages, beautiful gift baskets, and more.
​Dinner begins at 7 p.m. for more than 300 people with the "March of Celebrity Waiters," followed by a three-course meal, musical entertainment, a live auction, and the presentation of this year's honoree, WLRN radio host Ed Bell.

​This year's Cuisine for Art features special musical performances by 13-year-old singing sensation Julia Dale – the Miami Heat's "good luck charm" – and classically trained electric violinist Randi Fishenfeld. Fantastic experiences, such as being "Sheriff for the Day" and a
VIP California Wine Tour, will be auctioned in the exciting live auction.
​Seminole Paradise and The Galleria Mall will award gift certificates and other prizes to guests at the two tables who raise the most gratuities in honor of their celebrity waiter. An after-party for ticket buyers occurs at a Seminole Paradise "hot spot" for those who want to keep the party going following this fun-filled fundraiser.
Ed Bell, now in his 43rd year as a radio producer and host on the South Florida airwaves, he has devoted his broadcasting career to exposing and elevating the arts. Prior to joining WLRN in 1977, Bell presented the recordings of local musicians on WBUS, WTMI, and WVUM. The University of Miami alum was recognized for his dedication to America's music by being named Best Local Jazz Advocate by New Times in its June 1995 Best of South Florida issue. Other production credits include co-founding and co-producing The Hollywood Jazz Festival (1983-86) and co-founding The Sunshine Jazz Organization, a jazz support not-for-profit. Bell was honored with a Visionary Award from The Miami Beach Arts Trust (2009) and an Arts Hero Award from The Arts and Business Council (2010). His work on his radio show "South Florida Arts Beat" was honored in 2009 with a Society of Professional Journalists Award. His mission continues every Friday at 1 p.m. on WLRN radio.
This year's celebrity waiters are: Hon. Patricia Asseff, City of Hollywood commissioner; John Benz, senior vice president and chief strategic officer, Memorial Healthcare System; Hon. Kevin Biederman, City of Hollywood commissioner; Hon. Richard Blattner, City of Hollywood commissioner; Hon. Peter Bober, mayor, City of Hollywood; Hon. Traci Callari, City of Hollywood commissioner; Hon. Joe Gibbons, Florida State Representative; Victor Green, president, Greater Hollywood Chamber of Commerce; Michael Goodman, partner, Bitner Goodman; Hon. Sue Gunzburger, Broward County commissioner; Hon. Peter Hernandez, City of Hollywood commissioner; Hon. Shevrin "Shev" Jones, Florida State Representative; Alan Koslow, partner, Becker & Poliakoff; Kristi Krueger, co-anchor, WPLG Local 10; Armando Leighton, CEO, CRS Jet Spares; Mike Long, general manager, Crowne Plaza Hollywood Beach; Melissa Milroy, SCMD, senior marketing manager, The Galleria Mall; Kimberly Russell, administrator, America's Quality Care Services; Lisa Scott-Founds, president and CEO, Winterfest, Inc.; Hon. Linda Sherwood, City of Hollywood commissioner; Hon. Eleanor Sobel, Florida State Senator; and Hon. Elaine Schwartz, Florida State Representative.
​The Seminole Hard Rock Hotel & Casino is the presenting sponsor for Cuisine for Art. Event sponsors at this time are BankUnited; Florida Power & Light; Southern Wine & Spirits of America, Inc.; and Westin Diplomat Resort & Spa. Media sponsors are Blacktie South Florida and Eye on South Florida.
​Cuisine for Art Event co-chairs are Jules Meyer, Susan Renneisen, and Anna Smith. Auction Chair is Tracy Lyons.
​Cost of this business/dressy casual attire event is $125 per person; $1,250 for a table of 10. To reserve your seat, become a sponsor, or receive more information about this don't-miss event, visit ArtAndCultureCenter.org or call 954.921.3274. The Seminole Hard Rock Hotel & Casino is located at 1 Seminole Way and complimentary self-parking is available in the garage and parking lots.
The Art and Culture Center of Hollywood presents contemporary gallery exhibitions, live stage performances and high-quality education programs for adults and children. The Center fosters a creative environment where new and challenging work can flourish through programs that reflect the highest standards of artistry and diversity.