Annual Light Up The Night Raises Funds And Awareness For Junior Achievement of South Florida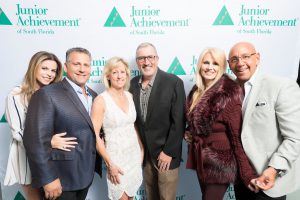 City of Coconut Creek, Florida—Junior Achievement of South Florida raised more than $30,000 at its recent 5th Annual Light Up The Night event held on Tuesday, March 13, at Casa de Montecristo by Prime Cigar in Boca Raton, FL.
Three outstanding couples were honored this year for their support to Junior Achievement. They were Ryan and Merideth Leeds, Mark and Sharon Warren, Steve Nudelberg and Michelle Esposito.
"It is a passion for both Michelle and myself to work with the kids Junior Achievement serves. They inspire to be entrepreneurs and are eager to learn. When you get to do what you love with the people you love, that's what I call success," Nudelberg said.
The evening also featured: food provided by Rapoport's Restaurant Group (Henry's, Deck 84, Burt & Max's and Prezzo); fashion by Gent Row, Beyond Proper by Boston Proper and Kendra Scott; exotic autos from Excell Auto Group; music; and networking.
Many thanks to the sponsors, including IMI, EY, Capitol Lighting, Coastal-Pacific Wine and Spirits of California, Motiv8, On the Ball Marketing, WZZR Real Radio 94.3, iHeartRadio, Simply the Best Magazine and Eye On South Florida. Also thanks to the committee members: Junior Achievement of South Florida Board Members Chris Cavanagh, Jim Constantine, Alan Gross and Mitch Welin; honoree Ryan Leeds; and Casa de Montrecristo by Prime Cigar owner David Resnick.
"Our Light Up The Night is an effort for us to connect with businesses and leaders in the south Palm Beach County area. It's was a tremendous fundraiser and opportunity to raise awareness of our three pillars of education – entrepreneurship, financial literacy and workforce readiness," said Laurie Sallarulo, President and CEO. "We were thrilled to honor these special couples for their dedication to our programs. Thank you to everyone who came to Light Up The Night!"
About Junior Achievement of South Florida
Junior Achievement of South Florida (JA) inspires and prepares youth to succeed in a global economy. JA provides real-world training in financial literacy including budgeting, spending, investing and the use of credit; offers cutting-edge skill-building opportunities that enable young people to explore meaningful, productive careers; teaches students how to start businesses; and introduces entrepreneurial values that strengthen workplaces. Last year, with the help of over 5,800 trained corporate and community volunteers, JA delivered over 20 various programs to almost 50,000 students in classrooms throughout Broward and South Palm Beach Counties and at Lillian S. Wells Foundation JA World Huizenga Center at Broward College, a first-class facility housing JA BizTown and JA Finance Park. For more information about Junior Achievement of South Florida or to make a donation, visit www.jasouthflorida.org.
About Junior Achievement USA® (JA)
Junior Achievement is the world's largest organization dedicated to giving young people the knowledge and skills they need to own their economic success, plan for their future, and make smart academic and economic choices. JA programs are delivered by corporate and community volunteers, and provide relevant, hands-on experiences that give students from kindergarten through high school knowledge and skills in financial literacy, work readiness and entrepreneurship. Today, JA reaches more than 4.8 million students per year in over 100 markets across the United States, with an additional 5.2 million students served by operations in 100 other countries worldwide. Junior Achievement USA is a member of JA Worldwide. Visit www.ja.org for more information.