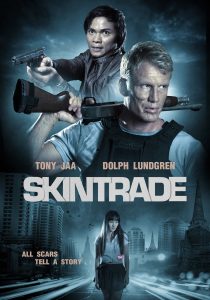 Host and French Reporter Jackie Watson at the Los Angeles premiere of Skin Trade. Stars Dolph Lundgren, Ron Perlman, Tony Jaa, Peter Weller, Celina Jade, Director Ekachai Uekrongtham, and their celebrity friends including Jason Statham, Dwight Yoakam, Jean-Claude Van Damme, among others.
Detective Nick Cassidy (Dolph Lundgren) heads to Bangkok to hunt down Viktor Dragovic (Ron Perlman) and destroy his human trafficking network; Nick killed Dragovic's son in a shootout during a sting operation on the New Jersey docks, and Dragovic responded by attempting to kill Nick and his family. Nick miraculously survived the brutal attack that destroyed his family; with nothing but vengeance to live for, Nick smashes his way through the Bangkok underworld in search of the elusive Dragovic. Meanwhile, FBI Agent Eddie Reed (Michael Jai White) is sent in to bring Nick home even as Thai detective Tony Vitayakui (Tony Jaa) questions the motives and methods that have brought Nick across the globe to Thailand. As the crossfire between all sides grows more and more deadly, Nick has to determine who his true allies are.
SKIN TRADE was written by Gabriel Dowrick, Steven Elder, and Dolph Lundgren and directed by Ekachai Uekrongtham. The film is 95 minutes and Rated R for violence and language. Magnet Releasing will release SKIN TRADE on Ultra VOD on April 23, 2015 and in theaters on May 8, 2015.