You Oughta Know that Miami Beach Live Rocks!
By: Elisa D'Amico @elisadamico
From the day it went on sale at Tower Records in June 1995, Alanis Morrisette's Jagged Little Pill was in permanent rotation on my 5-disc changer. The music spoke to me – I could have sworn they were written for me, an awkward 14 year-old who desperately wanted to fit in but never did. I can't say for sure how many times I heard the album from the first notes of All I Really Want all the way through to the hidden track at the end of the album. But certainly enough times to engrave her music into my brain where it's happily lived for years.
Seeing Alanis on stage for Miami Beach Live brought me back to my middle school days (minus the awkwardness of puberty and caring way too much what other people thought of me). Sure, when you think of a spring break concert on Miami Beach, Alanis may not be the first artist to come to mind. But Miami Beach chose Alanis and other artists to take part in this concert series in an effort to help write the narrative of spring break on Miami Beach. The Miami Beach Live event series cost a whopping $3 million but from the looks of the crowd on Saturday night, it was a smashing success.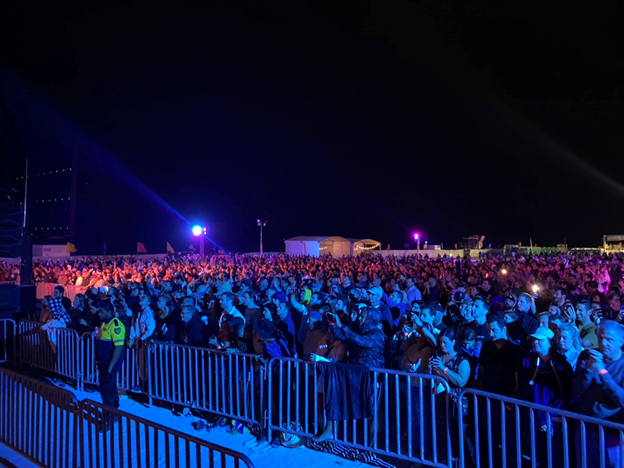 I spoke to Richard Clements, Chief of Miami Beach Police, who confirmed that 6,000 people braved the unusually chilly evening to gather on the beach to see Alanis Morissette and recent Grammy nominee Jon Batiste, who kicked the night off.
Jon Batiste was pure magic. From his incredible piano skills to his swooning voice, he had the crowd captivated from the first note. My favorite part of his show was watching Jon on the melodica – growing up I used to watch my dad play, although we were a much smaller crowd back then and, he usually stuck to children's songs. At one point Jon stepped off the stage and into the VIP crowd – it was truly something wonderful.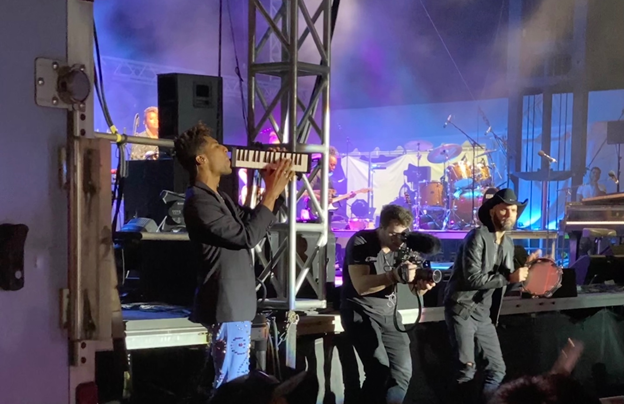 While the stage crew set up for Alanis, I had the good fortune to meet Assistant City Manager for Miami Beach, Mark Taxis. We chatted a bit about the concert series and its genesis and Mark had this to say:
We're only halfway through the first Miami Beach Live! with concerts by Juanes and Bernadette Peters still to come, but I think it's fair to say we've taken the first steps to changing the crowd dynamic of South Beach during spring break. You could see a tremendous increase in attendance from just the first to second weeks of Miami Beach Live! That's because folks are getting to enjoy world-class entertainment at throwback prices on the famous sands of Miami Beach.
And then it was time for Alanis to take the stage. Watching her was truly surreal and I felt so incredibly grateful to be there, to be able to enjoy such a beautiful concert, and to live in that moment. I knew she would be amazing but my god her voice was even better than I expected – it was perfection. I didn't want to look away, even for a moment. But I'm sure glad I did because I turned around and saw Jon Batiste right behind me. Of course I immediately walked over to him and told him how magical he was and thanked him for sharing his gift with us … and took a selfie.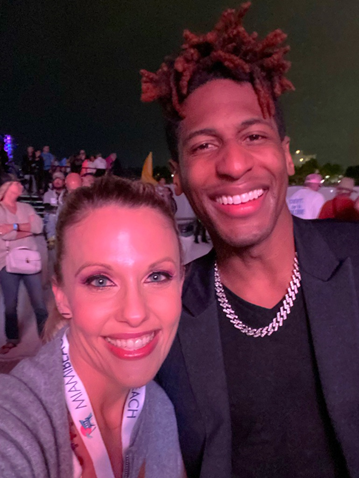 Alanis played so many of her hits – Hand in My Pocket, All I Really Want, Mary Jane, Ironic, and You Oughta Know. And just when I thought it couldn't get any better, it did. She played the hidden track – "Your House," and it was at that moment when I wish I could have gone back in time and told middle-school me that one day I'd be watching Alanis Morissette sing a cappella on stage from the front row, that I'd be 40, but I'd still feel 14.
Learn more about Miami Beach Live here.